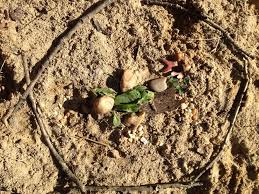 Please note that this is a 2 part session:
What is a Sand Painting?

A sand painting is a symbolic representation of your healing journey right now.

A circle represents the medicine wheel and the circle of life. You will be placing your intentions into your individual sand painting, using stones, twigs, flowers and leaves. You may bring a special personal object that has meaning for you.

We will begin with a meditation to help you focus on what needs attention in your life.

As we walk around the land, you will be picking up objects that represent what needs to be addressed.

You will be given directions on opening and closing sacred space.
You will come back for a second sitting. We will walk to your
sand painting and then come back to process all you
have learned.

Bring a journal and water.

Sand is not a requirement!
Fee for Private Session: $100 (includes 2 meetings)